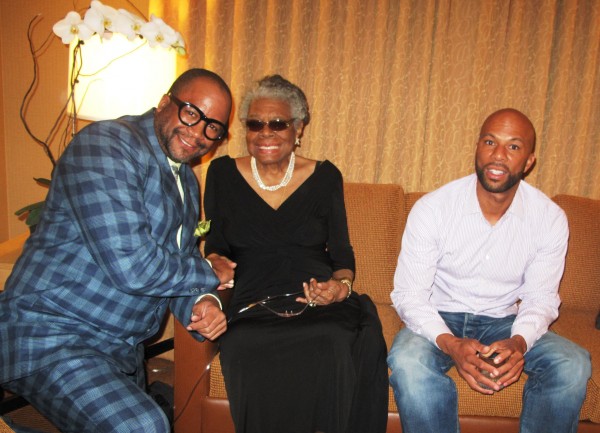 I Know Why the Caged Bird Sings.
That is what I thought when an angel spoke to me. If there were a place that one could pick to be on earth and a presence to be in, I'd rather be where I was and have you read to me. There are times that life has brought such lights that fill the life of an individual for an eternity. Who shines in your life each and every day? Is it King, is it Malcolm, is it Michael Jordan, which one would you say? Would it be Dorothy Height or Mary McLeod Bethune, or Michelle Obama, or would it be Oprah that you would choose to be? Whose light is shining and reflecting in your eyes, with indelible accomplishments that you can't erase? Whose guiding principle can you see? Is it Buddah, Jesus Christ, Muhammed that speaks to thee?
In the sure-footedness required to walk the tightrope of life, so as not to fall into the perils and the traps that lay beneath. Whose voice has creeped up into thee? Whose letters and prose are found in your head? Whose theories will make it so you are profitable instead? Whose business acumen do you understand? Warren Buffet — is that you? Or is it the individuals who run million-dollar franchises like McDonald's and earn money a fry at a time. Do you respect them, even though they don't fly through the air, catch a ball or make a rhyme?
The current perils that face the African American race, are tantamount to our fear of taking our place and emerging victorious in this worldly sphere. Who in your heart speaks to you and what image appears? But here's an account of how it happened for me:
The phone rang and thought not to answer, you see. It was Saturday and I was where I wanted to be. But I answered in time, and the voice hit me, before I could start mine, a voice said, "Put on a suit, you have somewhere to go." I responded, "What are you talking about, it's jeans and tennis shoes today?"
Saturday is what I wanted it to be, but that was not how life would treat me. Then I heard a voice that came from the past, Dr. Benjamin Mays came at me hard and fast. He talked about intelligence and the mandate for a black man to stand straight and look a person in the eye. I put on the suit and went about my day. Saturday. Now the time passes, eight, then nine and now noon, and I'm not sure of what to do. The phone rings again, and by now it's almost two. Here I go, what should I say, "Hello, this is Munson Steed. How is your day?" Polite, professional and always kind. "We need you here, there is some one we want you to meet."
I thought about the standard-bearers of the day, the accomplished ones with so much to say. I thought James Baldwin, or descendants of the mountaintop. I thought about those who they had been unable to stop. Like Paul Laurence Dunbar, and his famed "We Wear the Mask" poem.
We wear the mask that grins and lies,
It hides our cheeks and shades our eyes,
This debt we pay to human guile;
With torn and bleeding hearts we smile …
We often wear them, but our skin tells the story. So I decided to go and meet this person … who turned out to be an angel. You rarely receive calls that will transform your day and move you in some new and memorable way. I had my suit and I was prepared for whatever was to be. I ascended the stairs, and they told me and I had seven minutes to spare. And I was prepared, as I had been all of my life, ready and always aware.
I knew why the caged bird sings.
She shared openly and freely, about the wounds of life. Her voice provided the melody of so many songs I'd heard in my head. Sitting there with her beautiful, platinum hair and her wonderful way of speaking. Spiritual and strong, surrounded by seraphins, and warm and confident within. I could finally say, what it was to meet someone who transcends the temporal scene. I met her — Maya Angelou that day, and I felt like holding my head down while I bowed. In her presence, that majestic presence, what was I to do, what was I to say? There I was in the moment, knee bent, in the presence of one who is godsent.
Common and I, (my brother had invited me to come around) and now I had gotten my first question down. I didn't ask her to speak just to me, no she spoke with great wisdom and she spoke collectively. She spoke elegantly, and she spoke to those who looked just like me. She's been in the presence of so many great men, so I decided there and then, to ask her what advice she had for black men. In her profound and poetic way, she said for back men to forgive themselves that day. And then she continued so eloquently to say the things that she did say. I was moved and motionless, and the silence filled the room in a very special way. It was if the one true master had spoke through her and we all heard it that day. We stamped her words in our mind's eye, we sewed them into the fabric of our being, and we hung to them and all of their meaning.
And then I asked her if she would grant me a favor. I loved her voice and all it had done for me. So, I asked her just to say my name. And she, with her wit and grace, removed my pain. She said my name like I was the only one in the land, she said my name like I was the president or the man. She said "Munson Steed" and it was all I thought it would be indeed.
If you ever meet a historic figure, especially one who's shared your pain, ask them to say your name — you'll never be the same. If you miss the moment it's such a tragedy. I love you Maya Angelou, you mean so much to me.
Here we are in Poetry Month and I want you to know, of the poets who have poured out their souls and have written about the triumphs and travails, and how hearts are mended. They open our hearts and souls to the words that will transport us and keep us. I am not certain if I'll ever see her again, up close like that, so close to her skin.
But you can make it a point, to put a little Maya in your day, and carry her around in your soul. Her brilliant light will make a path for you. Take the time to trip through poetry land, and listen to Maya — she's real and she's grand.
I'm glad I know why a caged bird sings, she taught that to me along with so many other things. Thank you, Maya Angelou. I will always love you.