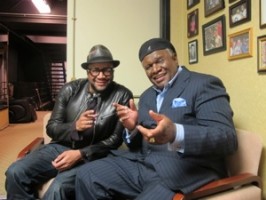 The Las Vegas mantra 'What happens in Vegas stays in Vegas' may not be completely true. Especially if you're going to see acclaimed comedian George Wallace who's act and hilarious anecdotes are something you ought to share — if for no other reason than the fact that it's a cultural break through.
I had occasion to sit and chat with Wallace the other day. He's a man of relative mystery, but he had so much of substance and humor to say. But in getting to know him as a titan in the show biz industry, I soon began to feel as though I had taken an intellectual funny pill.
Watching him on stage, I came to appreciate how he took control and did it his way. He was like a comedic maestro and we, the audience became players in his show. He let go of a symphony of jokes that floated around the room, and from the orchestra pit, people squealed and swooned. He moved his hips and gyrated his gate, this giant of a man who stands all of 6′ 8.  He took command of the stage, and he slayed the audience, if you use laughter to gauge.
But his tone took a more somber note, when about the president he joked. Wallace poked fun tongue-in-cheek about the black community, and he used real experiences to express himself with aplomb and impunity.
He encouraged them to travel and to view the world in a different way, and he pointed out things that we refuse to see, let alone say. He talked about our inability to get along, and how we keep singing that same tired song — you know the one, that there is someone to blame for our own lack of gain.
I took it all in, as I watched this confident and self-assured man, stand and receive adulation and applause. I thought about the brothers who would never see, George Wallace and his fait accompli. These other brothers who battle and bray, and now have a debt to society to pay.
George Wallace's larger than life persona and presence, are shining examples of a black man and his true essence. But it wasn't what he chose to actually do, it was his charm that regaled us and his brilliance shown through. Comedy is his vehicle for getting his point across, about lack of ambition and lifetimes of loss. Savvy, sincere and a sensational hit, his stories were true and full of real grit.
I wondered if young brothers really got him that day, and really understood what he had to say. If Wallace had gone and visited prisons that day, I wondered if they would greet him with joy or dismay. He is intelligent and a deep thinker, on whose words we should pause and linger. He commands the  attention of the crowd, not through being loud or boisterous or unnecessarily proud.
For those brothers who mask their smiles and wear a social blindfold, and profess that they're okay with miseries untold … they just don't realize how they make the tragedy twofold.
But back to brother Wallace who entertained and delighted the crowd, we were in awe as we rolled on the floor and laughed out loud. To see an African American man stand so tall, with his posture and stance he appeared as big as a wall. His skin, a deep dark chocolate brown, underscored the fact that he would not back down. He spoke with the courage of his convictions you see, and that was all we needed to nod our heads and agree. His jokes were more than witty, they were in fact profound, they hit like missiles, rapid and inbound.
And although it was late night and the show had gone long, he held our attention and he couldn't go wrong. And then I wondered how it would be if he spoke at a graduation, and discussed youth and aspiration. Would he tell them to be reverent and respectful in every way, would he tell them not to waste a moment and keep temptation at bay? Would he tell them to be forgiving and understanding and to be best they could possibly be? He undoubtedly would.
He shared so much on stage during that time, and he thanked the audience for helping him unwind. And when we spoke later he smiled and explained, he was going on the Tom Joyner cruise with a happy refrain. He said he and Tom were brothers and friends for some 30 years, and they were much more than just  industry peers.
So, for you who may have missed him this time, visit Vegas and catch George Wallace, it's well worth your dime.  If you haven't heard him, I'm telling you right now, he does us proud and for years that's been going down. So think about the role you play in watching over your world and keeping young ones from going astray. Don't become fodder for a blog, or a talk show joke, let his wisdom be the words you invoke.