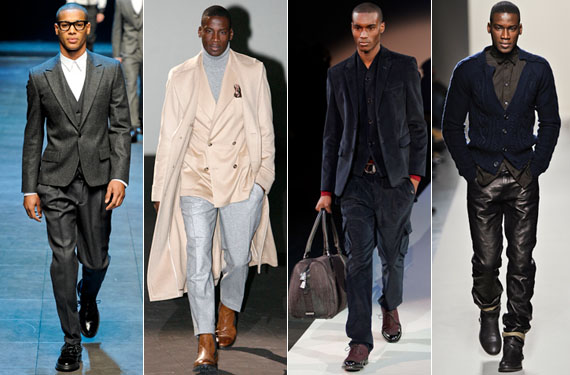 Military Styled Coats
Outerwear is highly important when the winter season rolls around. Everyone loves a great looking winter coat, and for men the military styled coat is stylish but still masculine. These coats lie a bit beyond the waist and have a lot of design details that give it more of an edge than your average pea coat. Buying in a darker color, such as a deep navy or charcoal, is a sure way to complement any outfit this winter season.
Preppy is Still In
Preppy winter clothing has yet to go out of style, and is a great way to add color to your winter wardrobe. Preppy styles for men are comfortable, casual styled clothing that come in a wide variety of styles and bright colors. Brands to try: Tommy Hilfiger, D&G
Say Yes to Exotic Fabrics
Velvet is still in this season as far as fabrics are concerned. Men don't need to stick to boring cottons or wools to have their winter wardrobe fit in. Cashmere, leather, and even fur is in this season for men. Brands to try: Versace, Etro
Heavy Knit Sweaters
Sweaters with a chunky knit in bright colors are definitely a wardrobe must have for any man along with Nordic sweaters. These sweaters will not only keep you incredibly warm during the colder months, but will also keep your wardrobe interesting and from running on the bland side. Brands to try: Versace, Hermes, John Varvatos
Go Gray Not Black
While black is classic and sleek, let's not forget about the stylish neutral gray.  Gray suits and overcoats pair nicely with the bright garments that are in this winter, and complete an outfit without having to be so traditional.
Just because winter is upon us doesn't mean that men can get sloppy. Keep yourself looking good by remembering a few of your favorite winter trends.