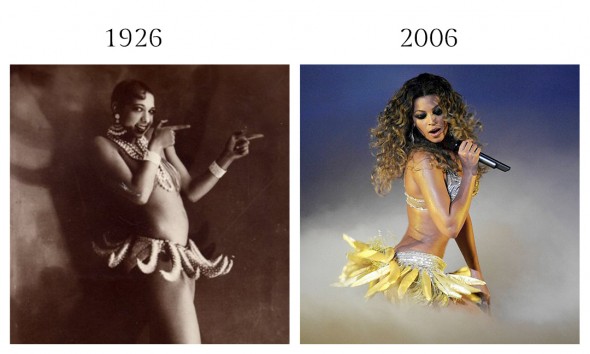 At 30, Beyonce is all grown up and so is her music. She takes more risks than most artists and we can understand why. In a 2005 interview with "Good Morning America's" Diane Sawyer, the pop ueen revealed the legends and history that had influenced her music saying:
"I wanted to be more like Josephine Baker, because she seemed like she just was possessed and it seemed like she just danced from her heart, and everything was so free,"
Baker, a famous Parisian dancer of the 1920s, advocated equal rights and refused to perform in segregated nightclubs.
A pioneer for African American women, Baker is commonly associated with her seductive banana dance performance at the Folies Bergère, costumed in a skimpy skirt constructed out of a string of artificial bananas. In 2006, Beyonce payed tribute to Josephine by sporting her own version of a banana skirt for the Fashion Rocks concert, pictured above.
As the spokeswoman for the women who "run the world," and by far the most talented entertainer of her time, has Beyonce evolved into the new Josephine Baker?!