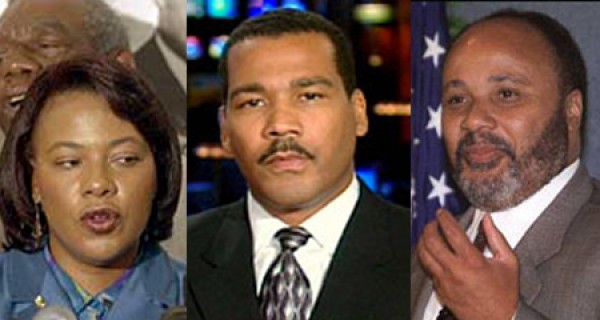 The recent 50th anniversary march on Washington was a day where thousands gathered to celebrate the achievements of one of the greatest leaders of the civil movement, Dr. Martin Luther King.
Unfortunately, this day was overshadowed by a lawsuit filed by Martin Luther King's children, over what else? Money! On Aug. 28, his two sons, Martin Luther King III and Dexter King, who run Dr. King's estate, have filed a suit against the King Center of Atlanta, which is run by sister Bernice King. Bernice's brothers claim that the King Center of Atlanta has been careless with the use of Dr. King's "name, image, recorded voice, memorabilia and the remains and coffin contained within the crypt of Dr. Martin Luther King Jr."
A "total breakdown in communication and transparency." was also reported within the lawsuit.
According to the Courthouse News Service:
The estate says it conducted an audit in April, which "revealed that the current manner of care and storage of the physical property by defendant is unacceptable." It claims the items are "susceptible to damage by fire, water, mold, and mildew, as well as theft."
King's sons say they tried to work with their sister to fix the problems, but the relationship "has recently become strained, resulting in a total breakdown in communication and transparency."
As a result, the estate allegedly was forced to terminate the worldwide, royalty-free licensing agreement by mailing the King Center a 30-day notice on August 10. The estate informed the center in a letter, that it could "prevent the termination by: putting CEO Bernice King on administrative leave pending the final audit investigation; give the estate approval power over the use, care and treatment of the memorabilia until another solution can be implemented; and remove Alveda King, the civil rights leader's niece, and former Atlanta mayor and civil rights veteran Andrew Young from the center's board of directors."
This is the second time in just under 5 years, that King's children have found themselves bickering over financials. In 2008, Bernice King and Luther King III sued Dexter King, the estate's administrator, for refusing to provide documents concerning the estate's operations.
The King's avoided a public trial by agreeing to a settlement in October 2009.
We're guessing not quite the dream Martin Luther King had for his very own children.