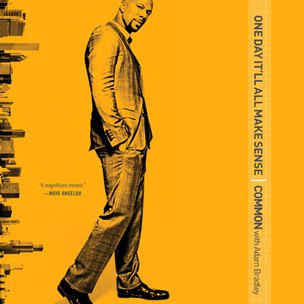 You don't have to like hip-hop, you just have to appreciate openness and honesty.That openness allows new ideas to take root in his soul, and through the lens of those new values he his open to reexamining his life and seeing a better version of himself.
One Day It'll Make Sense has an very intriguing format. Each chapter begins with a letter from Common addressed to an important person in his life from his daughter to his close friend and collaborator Kanye West, from his former love Erykah Badu to you, the reader. Through it all, Common emerges as a man in full. Common's story is the prime example of no matter what you've gone through, one day it'll all make sense.
So revealing and so honest, reading Common's memoir really created such a nuanced and real portrait of him as a person. He openly talks about his growth not just as an artist, but as a man and is real about his struggles in his relationships, fatherhood and career. You finish the book having so much more respect for him. I applaud him for laying it all out there in that way. I highly recommend this book to young men.