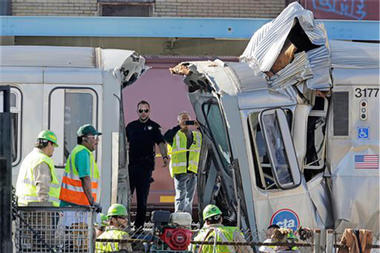 On Monday, Sept. 30, four dozen people were hospitalized after two Chicago subway trains collided during morning rush hour. According to reports, nobody was at the controls of an empty commuter train that slammed into another train full of passengers, just before 8 a.m. at a Harlem station, injuring 33 people.
Oddly enough, officials have no idea how the "ghost" train got started. There was no sign of break-in or a malfunction as it takes two keys to start the train, officials stated.
A witness, Taylor Pettiford, recalls hearing screams just before the incident.
"Stop! Stop! Stop the train!" she heard. "Slow down!"
"Investigators are examining the video, the signaling systems and other data to determine what happened," said CTA spokesman Brian Steele.
Fortunately, no fatalities were reported.