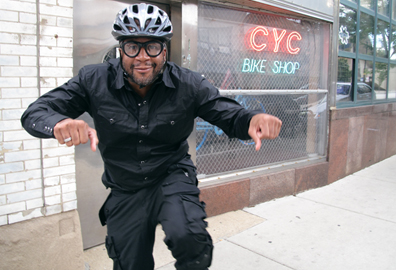 There are those who will not travel during the day
They have no idea of what life is supposed to say
Their life path is ready to be ridden you see
And a bicycle is the choice of many, don't you agree?
For those who visit Amsterdam, and the bourgeoise
The bike is the preferred mechanism
For getting around on daily basis
So how do we take a bike and work it into our schedules?
We treat ourselves to living with enthusiasm
And avoid cardiopathy
Get the exercise. That's the value of  bike.
Say, yes to our life, ride a bike and get right.
I was touched by the fact
That when you're in a famous city, you see
There are always places and paths
For you to ride a bike and be.
Take your bike on a hunt for a wonderful place
And you'll find the most beautiful places and spaces
You'd ever hope to see.
For you won't ever want for inspiration
Take your bike and let it move you
To where you need to be
That's the wonderful thing about something
Like a bike you know
It's something that you can learn
Something that you can show
It's like a language that can be used everywhere.
If you know Spanish, then you can begin to prepare
To speak in Spain and Panama too
The bike is like that
And once you learn it you can move ahead
And go through
So take a language while you ride your bike and see
Take a note pad
And draw or write down
Things you choose and hope to be
It is there that a bike can ride you around
And you can move it without making a sound.
It's also a way to exercise you know
And make it something of a personal plateau
Better than those who might choose a marathon though
Better than those who don't want the daily grind
And it is a way for you to expand your mind
Pick up a bike, although it may have been years
And make it a practice you hold near and dear
But then I had the good fortune
Of picking up Nikki Giovanni's latest book
The poet who always has something valuable to say
Moving beautiful words in a special way
Her latest book is called Bicycles you see
It touched my soul, it's so moving to me
The one thing she says about a bike each day
Is that it's built on balance and trust in a special way
So add a bike to your life and you'll see
All of the beautiful things that can come to be
Take pictures and share them
With people when you ride around
You'll notice that while you ride your bike
You won't have a frown
And you'll have a better view
Of the beautiful places
That are right up under you.
There's also a communal function you know
You can get your bike, take a friend and go
It doesn't cost much to ride a bike each day
And it will exercise you and a friend in a special way
Take a picnic basket on the back
Or pack a backpack and make your way
A little blanket can be folded too
So take your bike and your blanket
To make a picnic for two
Yes, take that bike and while you're at it
Make it part of your life show
They are not very expensive
But they bring such joy
And add richness to your world
While you wax pensive
I've added a bike to my life
Maybe it's a possibility
That you will find a way around
And take your bike and lose that frown
And know that a bike can add to your day
In a particular and distinctive way
But the bike poems that Nikki Giovanni wrote
Are actually about love
So if you love yourself you should add a bike
To your program each day
Nikki has wonderful poems you should read right away
Take her book of love poems and bicycles
And see how she touches on how a bike comes into play.
Picture yourself living like you ride
Upright and free
I've added a few photos
That I've taken while riding in stride.
I'd like to see yours if you'll send them to me
And we'll compare the riding and the possibilities.
Take your bike and ride into your life
Let me know your goals and what you like
Tweet away and Twitter while you park your bike
And let everybody know the pleasure you've found
Riding your bike and getting around.
For you need to see how great your life can be
With a bike, so add it immediately.
Peace.