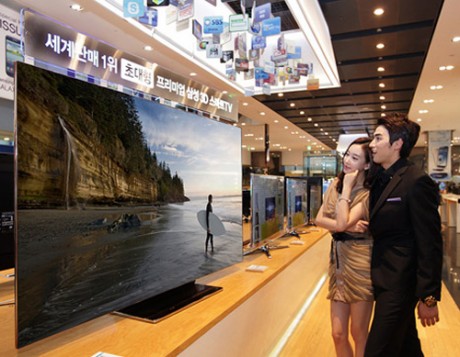 Samsung has just launched its 75-inch (189-cm) ES9000 OLED TV in South Korea with a whopping price of 19.8 Million Won ($17,450).
It is the world's largest super OLED TV and sports a gorgeous 7.9mm-thick bezel, while its 1GHz dual-core processor allows it to run multiple Smart TV application simultaneously.
The Samsung ES9000 features what the company calls a "Diamond Black Panel" which it claims improves the clearness, contrast and brightness of the display.
"The ES900 is the world's largest super OLED TV to be produced from a single pane of glass and showcases the ultimate in picture quality by featuring unmatched vivid and true-to-life picture quality in both 2D and 3D," Samsung said in a press release.
In addition to Samsung's new 1GHz dual-core chipset, the ES9000 also introduces voice control, facial recognition, as well as an intuitive new gesture control user-interface.