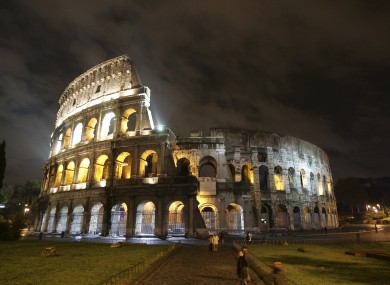 The $30 million restoration of the Colosseum financed by Diego Della Valle – the founder of luxury leather good maker Tod's – will begin in December.
The restoration of the Colosseum will last two and a half years and the ancient monument, which is one of the most visited sites in the world, will be covered in scaffolding but will be accessible to the public throughout. Della Valle, owner of the Tod's shoe empire, and Culture Minister Lorenzo Ornaghi hailed the project at a press conference in Rome.
Apart from cleaning, restorers will also repair cracks in the building and remove temporary metal arches installed on the ground level.
The project, which also includes construction of a new visitor centre and repairs on all the internal and subterranean areas of the monument, will increase by a quarter the areas accessible to tourists.
The number of visitors to the Colosseum, which measures 620 feet by 156 metres and is 48.5 metres high, has increased from a million to around six million a year over the past decade thanks mainly to the blockbuster film "Gladiator".
Completed in 80 A.D., it is the largest amphitheatre ever built during the Roman Empire and is considered one of the greatest feats of architecture and engineering.
It could seat 50,000 spectators and was used for gladiatorial contests, mock sea-battles, executions, animal hunts, and dramas based on classical mythology.