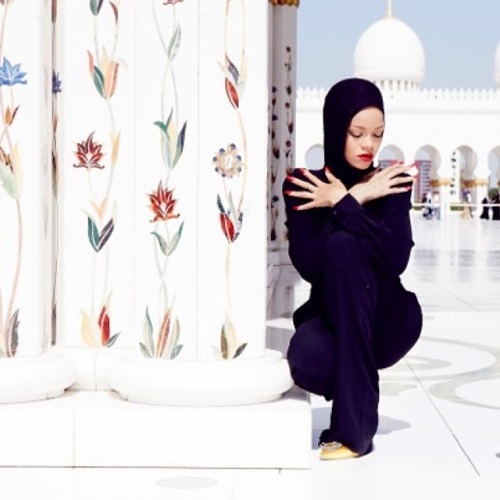 During a stop for her "Diamonds" world tour, 25-year-old pop star Rihanna took part in an impromptu photoshoot at the Grand Mosgue in Abu Dhabi. To avoid offending their culture, Rih Rih draped herself in a hooded black jumpsuit and gold waist length chain necklace; a much more modest look for the usually over sexed performer. She later posted the photos captured by famed photographers Steven Gomillion and Dennis Leupold to her Instragram with the following tags:
She later posted the photos to Instagram saying..
"Fashion Killaz in Abu Dhabi."
And "Bitch stole my look;" which you can imagine stirred up some controversy.
Despite her "new look," Rihanna was asked to leave the Sheikh Zayed Grand Mosque in the United Arab Emirates as overseers felt that her poses were "considered to be at odds with the sanctity of the site."
While the pop singer did adheres to the mosque's guidelines, did she in anyway disrespect the countries sacred monuments, or is this just another case of cultural barriers