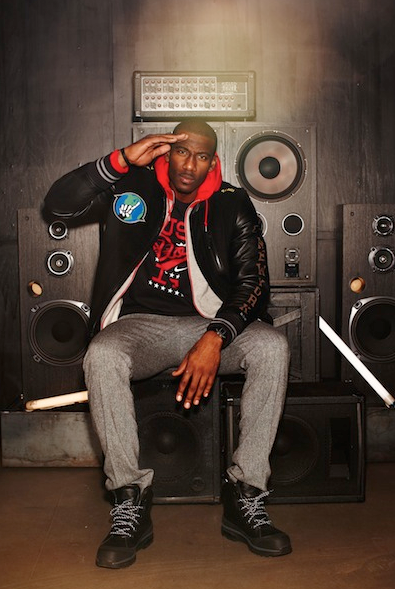 When he's not on the basketball court playing for the New York Knicks, stylish NBA star Amar'e Stoudemire is making the rounds at runway shows, sitting in the front row with fashion elite like Anna Wintour. The pair have clearly hit it off, because the Vogue editor-in-chief improbably teamed Stoudemire with editor Hamish Bowles for a story and photo spread in the magazine's April 2011 issue. Stoudemire, who recently teamed with Nike and their "Always On" video ad campaign, was out and about Monday night to premier his video at 21 Mercer streaming live performances by Vado, Stalley, Jesse Boykins III and French Montana. Gracious and soft-spoken, the 6'11 specimen of manly pulchritude is a complex figure who's overcome the early death of his father and an often absent mother to become an NBA all-star. We caught up with him the night before his video premiere to talk fashion, acting, agriculture and his year with the Knicks.
David Hershkovits: What kind of year has it been for you?
Amar'e Stoudemire: It's been a phenomenal year for me. I traveled to Israel and learned a lot of history. On top of the basketball season we had in New York, I acted in a few movies and shows like MacGruber and Entourage. Fashion just took on a whole other realm. I was able to attend some shows with fashion moguls, and received the Lord & Taylor Fashion Oracle Award. I also made the second All-NBA team.
DH: Had you ever thought about acting before? Like when you were growing up?
AS: I always thought about wanting to get involved in TV, but I just didn't know when or how. It just all kind of came into play last year.
DH: Did you sweat out the lockout and the possibility that there wouldn't be a season?
AS: It wasn't easy because as players we want to play as soon as we can, but we couldn't quite get a deal done as fast as we wanted to. Now we're back on the court, though.
DH: I'm surprised you have a night off. Don't you have a game Wednesday?
AS: Yeah, I had a long practice today. I'm working extremely hard. I did a charity event earlier today for Garden of Dreams and tonight's Nike Always On.
DH: Are you looking forward to anything this year outside basketball?
AS: Not right now. I'm just continuing to enhance the different avenues I've already driven down. Other than that, I'm just really focusing on basketball and bringing a championship to the city, which is the ultimate goal.
DH: In terms of music, what do you like?
AS: I love all genres. Alternative rock is a little bit much for me. Jazz is great. I like R&B, soul, hip-hop and pop.
DH: How do you discover new things?
AS: My friends turn me on to old school music, old-school jams. I listen to a lot of jazz stations when I'm driving alone to get a little clarity.
DH: If you weren't playing ball, what do you think you would be doing?
AS: I think I'd be a school teacher. Teaching is a passion of mine. Maybe a history teacher.
DH: You didn't go to college. Do you regret that or did it work out OK?
AS: Things worked out OK. I did attend classes for a few summers.
DH: If you went back to school, what would you study?
AS: I'm into agriculture right now. I follow an organic diet. When I'm on the road I've just got to pick the right foods on the menu. Sometimes I'm intrigued by certain things on the menu, but the majority of the time I eat organic.
DH: How do you balance the discipline of being an athlete and going out and doing all the other things you like?
AS: You've got to have the goals in mind and understand what it takes to achieve those goals, and then you've got to establish self-discipline. I've had my goal in mind since I was a kid. I wanted to become an NBA player and once I was on pace to do that I wanted to achieve something great within the NBA. I persevered through injuries, I had the self-discipline to train a certain way and that's why I am where I am right now.