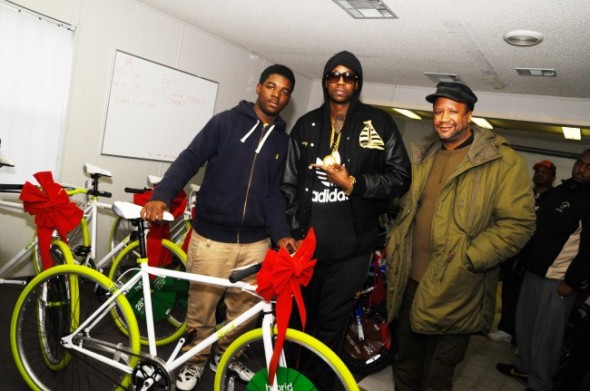 On Monday, December 24, 2012, Grammy nominated rapper Tauheed "2Chainz" Epps, TRU Foundation, and Rolling Out Publisher Munson Steed, gave the gift of hope to 28 metro Atlanta men and their children by providing with bikes for Christmas.
"We applaud 2 chains and the city of Atlanta's faith in redemption and fatherhood. 2 Chains is a role model for hip hop celebrities and for future fathers. We support the celebrity endorsed change that happens. when you give to children dreams turn into reality." said Munson Steed.
The fathers whom received the bikes for their children, participated in the City of Atlanta's Community Court sponsored program 'Empowering Men…Strengthening Families/Toys from Daddy Workshop,' a program aimed at re-engaging fathers in the lives of their children.
"This is our 14th year giving back to the community for the holidays" said Munson Steed, CEO of Steed Media. We are happy to partner with 2 Chainz this year to help those in need.
Scroll down to view the gallery…